Relaxa Bath Lift Belt
Product Features
Have a relaxing bath
The Relaxa bath lift belt will gently lower you into your bath safely for a relaxing bath.
Easy to use controller
With its big buttoned controller the Relaxa Bath Lift is very easy to operate.
Weight Capacity
The Relaxa Bath Lift can carry a maximum weight of up to 20 stone.
Relaxa Bath Lift Belt
The Relaxa bath lift is a motorised device designed to aid the user getting into and out of the bath. With the use of the Relaxa bath lift, access to the bath becomes safe and easy. Stainless steel is used to fabricate the interior of the cabinet to provide improved corrosion resistance.
The Relaxa bath lift works by feeding out the belt and attaching this to the floor mounting bar. The user then sits on the belt and is gently lowered into the bath at the touch of a button.
FREE Delivery
No hidden costs, delivery on all bath lifts is FREE. Items are delivered by courier.
1 Year Guarantee
Built to last we are confident in the quality of our products. Subsequently you can rest assure that all our products have a 1 year guarantee as standard.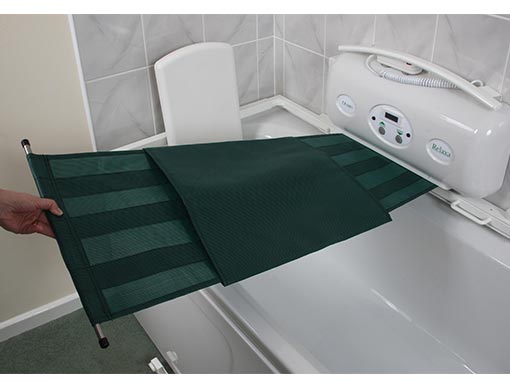 Space Saving Features
The Relaxa Bath Lift attaches to the wall meaning that it takes up a minimal amount of space.
The belt can be stored within the Relaxa when not in the use so it does not get in the way of other people using the bath.
Easy to Clean
The Relaxa is crevice free meaning it is very easy to clean the Bath Lift and requires very little time.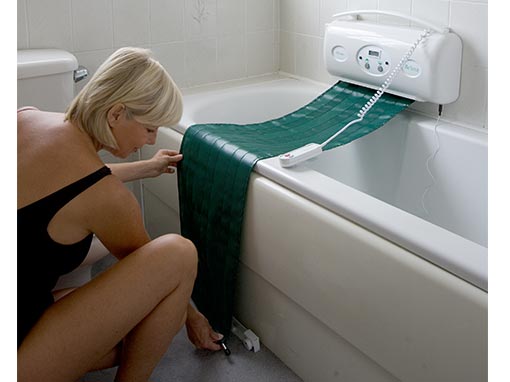 Interested In Buying This Product?